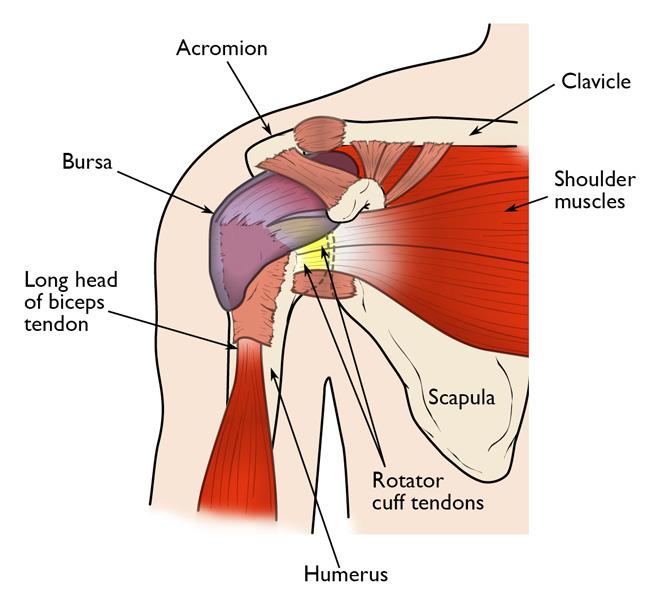 By;Generosa Dingal LMT
Anatomy of Rotator 
Our shoulder is made up of three bones: your upper arm bone (humerus), your shoulder blade (scapula), and your collarbone (clavicle). The shoulder is a ball-and-socket joint: the ball, or head of your upper arm bone fits into a shallow socket in your shoulder blade. 
When you complaint of pain in the shoulder, the shoulder tip, and upper regions of arm, this pain tends to get worse with activities like pulling, pushing, lifting, or reaching for objects. The symptoms are pain and weakness in shoulder.
How Can Massage Therapy Help Rotator Cuff Tendonitis?
Massages are known to be one of the best natural methods for increasing blood flow to the injured area, thus increasing oxygenation speeding up the healing process. Massage therapy also facilitates reduction of scar tissue formation since scar tissue restrict blood flow and  mobility.
Gen Spa Massage Therapy To Treat Rotator Cuff Tendonitis
Treatment:
Every component needs to be customized for each person, as there is no "one size fits all" for pain treatment. Various combinations that are personalized give our clients a great advantage to overall care. These unique and targeted methods represent over 11 years plus of  experience. We do deep muscular manipulations. Our Massage does wonders in cases of soft tissue injury. Other than providing stimulation locally, massage therapy also encourages production of anti-stress hormones which in turn decreases pain and discomfort.
At Gen Spa Where Your Health is Your Wealth!
By Appointments only.
Call or text (561)674-5215 to make an appointment today!
License# MM 35440
License# MA 51966
License# CE 9986843
License# FS 887871
Disclaimer: The content of all article is informational only, cannot be substitute for medical advice. For proper diagnosis, you should seek a medical Doctor or Specialist. Let your doctor know you're trying massage, exercises or doing cleanse for your body, and be sure to follow any doctors standard treatment plans you may have.