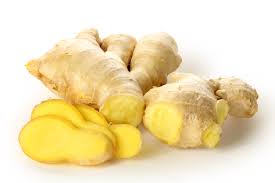 Ginger is an herb, usually used as a spice. It can be used dried, fresh, powdered, and as a juice or oil. Ginger has been used as a natural remedy for many ailments for centuries. Now researchers are finding that ginger has not only great anti-inflammatory properties, but also works wonders in the treatment of many different things, ranging from migraines to cancer.
Cancer protection (ovarian cancer treatment and colon cancer prevention especially)
Heartburn/acid reflux/GERD
Nausea
Morning and/or Motion Sickness
Upset stomach
Improves Digestion
Boosts the immune system
Pain
Cough
Sore throat
Stuffy Nose or Nasal Congestion
Cold and Flu Prevention and Treatment
Toothache
Headaches and Migraine Relief
Inflammation
Swelling
Menstrual Cramp Relief
Improves blood circulation
Diseases caused by or fueled by inflammation such as arthritis, obesity, diabetes, Alzheimer's disease, numerous cancer types, cardiovascular disease, and more.
Add ginger to your diet by adding to smoothies or as seasoning on your meals for an extra quick. But use in moderation, do your own research, it can interact with some medications.
At Gen Spa Where Your Health is Your Wealth!
By Appointments only.
Call or text (561)674-5215 to make an appointment today!
License# MM 35440
License# MA 51966
License# CE 9986843
License# FS 887871
Disclaimer: The content of all article is informational only, cannot be substitute for medical advice. For proper diagnosis, you should seek a medical Doctor or Specialist. Let your doctor know you're trying massage, exercises or doing cleanse for your body, and be sure to follow any doctors standard treatment plans you may have.