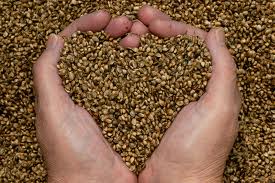 Hemp Seeds
From the family of Cannabis, this plant contains very low levels of THC, although it is not legal to grow it in the United States, even for culinary purposes. Most organic hemp seeds in the US market come from Canada.
Hemp is a very nutritious plant. The edible part is usually the seeds, which is rich in amino acids, making it an ideal source of protein for many vegans. Rich in fiber and vitamin E, the hemp seeds contains also a great supply of magnesium, iron and potassium. The essential fatty acids are abundant in hemp seeds and come in a ratio that is highly beneficial to humans.
Nowadays it is easy to find many products made of or containing hemp seeds. You can buy the hemp seeds itself, hemp protein powder, hemp oil and hemp flour. With the popularity increasing, hemp seeds are on the shelves ready for consumption in the form of salad dressing, nutrition bars, breads, cookies, chips, pasta, frozen desserts, etc.
Add hemp seeds to your diet. It is simple and nutritious. Add a scoop of hemp protein powder to your juice or smoothie, use the hemp oil as dressing on your salad, or use hemp flower for your baking. Recipes are easy to find online.
Your health is your wealth!!