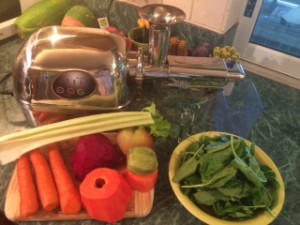 Did you know that 95% of the vitamins and enzymes our bodies need are found in the juice of raw fruits and vegetables?
Fruits and vegetables provide nutrients essential for growth and renewal.
Some of them contain substantial amounts of carbohydrates which supply most of the energy we use to live and perform work but most importantly are the generous amounts of vitamins and minerals that it contains.
When we drink a juice, highly concentrated vitamins, minerals and enzymes rapidly enter the bloodstream absorbing all of the nutritional benefits of the fruits and vegetables and giving our digestive organs a much-needed rest.
Find below a good recipe of natural juice to get started to a better and healthier life:
3 whole sticks of carrots
1 Apple
1/2 Lemon remove skin
1 cup of grapes
1 cup strawberry cut up
1 medium bowl of organic kale
Good for two people
All the ingredients have lots of benefits . The carrot is good for cancer prevention and anti-aging. Apple, as they say "an apple a day keeps doctor away" – it is good to reduce the risk of developing hypertension, diabetes and heart disease. Strawberry helps burn stored fat and boosts short term memory. And the list of benefits never ends.
Just give it a try!