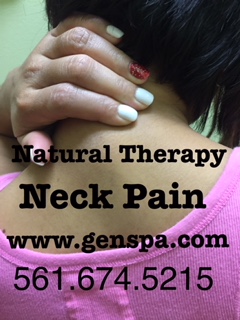 What Causes Neck Pain?
Stress can hold tension on your neck.
Neck strained or neck injury.
Swollen lymph nodes or virus infection.
Fibromyalgia.
Pinched nerves on the neck.
Degenerative disk disease.
Sleeping in a wrong position.
Hunched over on your computer desk.
Treatment Plan:
Massage it by using GenerosaPPPT technique to dissolve the pain and unlock the tight muscles. Break all out the toxins in the affected area and allow the blood to flow through out the entire system.
Exercise the neck daily to bring restoration by strengthening it.
At Gen Spa Where Your Health Is Your Wealth!
By Appointments only.
Call or text (561)674-5215 to make an appointment today!
License # MM 35440
License# MA 51966
License# CE 9986843
License# FS 887871
Disclaimer: The content of all article is informational only, cannot be substitute for medical advice. For proper diagnosis, you should seek a medical Doctor or Specialist. Let your doctor know you're trying massage, exercises or doing cleanse for your body, and be sure to follow any doctors standard treatment plans you may have.