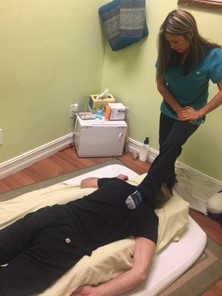 Traditional Thai Massage
Thai massage is a form of body work that incorporates a traditional combination of point pressure, energy meridian work, and yoga-like stretching for an energizing and balancing experience.
Technique
Thai massage uses passive stretching and gentle pressure along the body's energy lines to increase flexibility, relieve muscle and joint tension and balance the body's energy systems. While there are thousands of energy lines in the body, Thai massage focuses on the ten main energy lines.
Thai Massage is done on a very comfortable mat and is enjoyed in loose fitted clothing. The pressure can be varied according to your preference. Less pressure should be used the first time, while more pressure can be applied as your body can tolerate deeper work. Always feel free to request the level of pressure that feels right for you. No oils are used in Thai massage, and you should wear something comfortable to the massage.
Health Benefits
Many health benefits have been connected with Thai Massage, including:
* Reduced stress
* Decreased muscle tension
* Increased energy
* Relief from aches and pains
* Unblocking and balancing of energy flow
* Detoxification of the internal organs
* Improved alignment
* Increased flexibility and range of motion
* Improved mood
* Improved circulation
* Centers the mind and body
Like any form of massage, benefits increase with repeated treatments.
At Gen Spa Where Your Health is Your Wealth!
By Appointments only.
Call or text (561)674-5215 to make an appointment today!
License# MM 35440
License# MA 51966
License# CE 9986843
License# FS 887871
Disclaimer: The content of all article is informational only, cannot be substitute for medical advice. For proper diagnosis, you should seek a medical Doctor or Specialist. Let your doctor know you're trying massage, exercises or doing cleanse for your body, and be sure to follow any doctors standard treatment plans you may have.