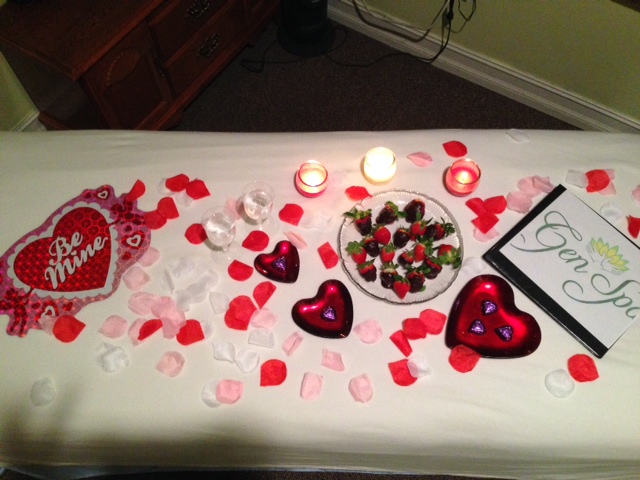 5 Senses Couple Special $250
Stimulate all your senses with this special package for you and your loved one.
First, get in the mood by choosing your favorite aromatherapy. Choose between: lavender, eucalyptus, rose, jasmine, patchouli, frankinsense or thieves.
Then compliment your taste buds with savory chocolate covered strawberries.
Finally, enter your romantic space, and enjoy the view of our stars while listening to soothing romantic melodies.
And lastly, just let your bodies relax and melt down, while enjoying our unique and delightful massage treatment.
90 minutes treatment including: aromatherapy massage, reflexology, chocolate facial mask.
Take home your chosen love smell.
Sweet Honey Body Treatment $120
Prepare your skin for a romantic day. Get your skin silky smooth and rejuvenate yourself with this treatment. Light exfoliating and detoxifying, our honey and salt body scrub will make your skin look and feel younger. To compliment this treatment, green tea and clay body wrap will tighten and hydrate your skin in our special table sauna. Enjoy a face and neck massage while listening to relaxing melodies.
90 min treatment.
Sweetheart Body Treatment $150
Prepare your skin for a romantic day. Cleanse and detoxify your skin with our Green Tea and Clay Body Wrap. This treatment will pull out the toxins from your skin, while bringing nutrients and minerals in. Relax and hydrate your skin in our table sauna, while enjoying a neck and face massage.
Finish this treatment with our unique massage, and get ready for your special valentine's day.
2/hours treatment.
Get your skin ready for a romantic day. Enjoy a chocolate facial treatment to hydrate your face and neck. This treatment will make your skin feel plump and smooth. Followed by a full body massage, you will melt down while relaxing and sending stress and toxins away.
90 minutes treatment.
At Gen Spa Where Your Health is Your Wealth!
By Appointments only.
Call or text (561)674-5215 to make an appointment today!
License# MM 35440
License# MA 51966
License# CE 9986843
License# FS 887871
Disclaimer: The content of all article is informational only, cannot be substitute for medical advice. For proper diagnosis, you should seek a medical Doctor or Specialist. Let your doctor know you're trying massage, exercises or doing cleanse for your body, and be sure to follow any doctors standard treatment plans you may have.