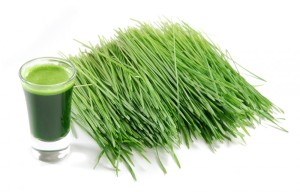 Wheatgrass is the young green stalk of the wheat plant. You can buy the seeds or kits and grow it at home, but it is also available already planted in trays of soil and in tablets, capsules, liquid extracts, tinctures, and juices.
Wheatgrass has high concentrations of chlorophyll, active enzymes, vitamins, trace minerals, and other nutrients that feed your cells and help rid them of toxins. It's also rich in protein, containing all of the essential amino acids. Wheatgrass is perfect for anybody: dieters, athletes, people requiring extra energy, people who want to be healthy, and anyone who suffers from illness and disease. It is a health elixir – as a preventive and to promote healing.
By drinking fresh wheatgrass juice, people have reported that they have more energy, better skin, stronger teeth, less gray and stronger hair, better digestion, and stronger immune systems. It is believed to neutralize strep infections, heal wounds, hasten skin grafting, cure chronic sinusitis, overcome chronic inner-ear inflammation and infections, and many other positive outcomes and results, both minor and major.
Chlorophyll is the main proponent of wheatgrass, advocates say the chlorophyll in wheatgrass can rid the body of toxins, strengthen the immune system and improve how the digestive track functions. Some believers equate with hemoglobin, which carries oxygen in the blood, saying that wheatgrass raises the body's oxygen levels.
Although most people use wheatgrass juice as a dietary supplement or as a serving of vegetables, some proponents claim that a dietary program commonly called "the wheatgrass diet" can cause cancer to regress or "shrink" and can extend the lives of people with cancer. They believe that the wheatgrass diet strengthens the immune system, kills harmful bacteria in the digestive system, and rids the body of toxins and waste matter.
Other benefits of wheatgrass:
Increases red blood-cell count; cleanses the blood, organs and gastrointestinal tract; simulates metabolism
Stimulates your thyroid gland
Reduces over-acidity in your blood and relieve peptic ulcers, ulcerative colitis, constipation, diarrhea, and other gastrointestinal complaints
Detoxifies your liver and blood and chemically neutralizes environmental pollutants
Its high chlorophyll content may help oxygenate your blood. Keeping a tray of live wheatgrass near your bed may also enhance the oxygen in the air and generate healthful negative ions to help improve your sleep
May help reduce damaging effects of radiation, courtesy of the enzyme SOD—an anti-inflammatory compound.
Wheatgrass juice can have an acquired taste. If you are not familiar with it or don't enjoy its taste very much, you can always mix with the juice of other fruits and vegetables to help neutralize its unique flavor. Mix with carrot juice, apple juice or orange juice. Get creative and try new recipes!
Juice Ideas:
* Wheatgrass + Carrots
* Wheatgrass + Apples
* Wheatgrass + Celery + Cucumber + Spinach
* Wheatgrass + Beets + Red Cabbage + Cucumber
* Wheatgrass + Lemon + Ginger
Always do your own research or consult your primary physician before making any drastic changes to your habits. The information shared here is not intended to replace a one-on-one relationship with a qualified health care professional and is not intended as medical advice. Our intention is sharing of knowledge and information from research and experience. We encourage you to make your own health care decisions based upon your research and in partnership with a qualified health care professional.
Your health is your wealth !!!
License# MM 35440
License# MA 51966
License# CE 9986843
License# FS 887871
Disclaimer: The content of all article is informational only, cannot be substitute for medical advice. For proper diagnosis, you should seek a medical Doctor or Specialist. Let your doctor know you're trying massage, exercises or doing cleanse for your body, and be sure to follow any doctors standard treatment plans you may have.